elcome to the Web site of Desertstar Somalis! We are UK breeders of Somali cats and live in the Cheshire countryside. We raise our cats in a loving and protective atmosphere, and they all live indoors with us. Kittens are sometimes available to loving homes after the age of 13 weeks.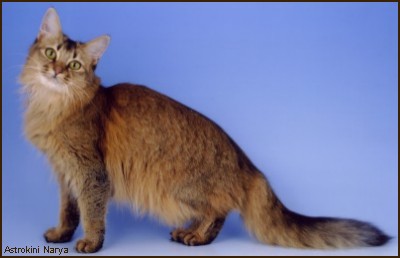 Home of Champion Astrokini Narya
Somalis are moderate-sized cats with a semi-longhair coat and bushy tail. The fur is incredibly soft and each hair has bands of darker colours, called "ticking", which gives the coat the impression of having a shimmer. This ticking usually also results in a darker band of colour along the cat's back and down through its tail to the very tip, which makes Somalis look quite exotic. Due to their fox-like tails they have been given the nickname of "fox-cat". To learn more about Somalis, please visit our Breed History and Breed Standards pages, or why not get acquainted with our cats?
Latest News:
March 2006: The Desertstar Somalis Web site gets updated after Crystal is neutered -- her page is now in the Neuters section.

Important:

Due to rising fears about Avian Flu, Desertstar Somalis would like to point out that we do not feed raw poultry to our cats.
Please feel free to take a look around our site to learn more about us and our cats. You can contact us if you need any further information. We hope you enjoy your visit and we look forward to hearing from you!